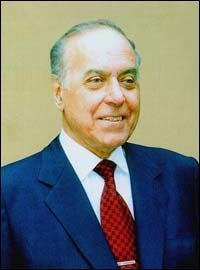 The genius statesman, world-known politician, twice Hero of the Socialistic Labor , Honorable Doctor of some universities in foreign countries, the awarder with the supreme order "Peace Premium of Atatürk", National Leader of Azerbaijan Republic Heydar Aliyev was the graduator of History faculty.

The relations of National leader Heydar Aliyev with University is great and grandiose stage of the glorious history of Baku State University. Most of remarkable days of Baku State University are closely related with its most popular graduator, outstanding politician of the Azeri nation and national leader Heydar Aliyev.

On October 28, 1994, on the dated meeting of the Great Scientific Council of Baku State University was made a decision to endow Heydar Alirza ogly Aliyev with Honorable Doctor of BSU for his care about the development of science and education, for summiting the name and glory of the University, for unparallel services before Azeri nation and government.

The biggest achievements of the University in educational processes, science development and strengthen of material base were also gained at the period of Heydar Aliyev's leadership of Azerbaijan Republic .This is also related to strong reanimation and progress processes which were observed not only in educational, but also in all spheres of the state life, when it was governed by great patriot and statesman Heydar Aliyev. All of two stages of 34 years Heydar Aliyev 's leadership of Azerbaijan Republic can truly be named " the Golden Period of Azeri nation and its science, culture and education". Tens of Azeri scientists, artistic and cultural workers were awarded with the highest state prizes. Every year, hundreds of youth were sent to most outstanding educational institutions to get rich knowledge and to become the professionals of unique specialties.

Baku State University always supports the genius policy of the great leader Heydar Aliyev and believes that this way is the most correct and useful for itself.

There is a big museum named after Heydar Aliyev at the University.

"I am proud of being the graduate student of Baku State University".