BSU students became the winners of the XIX "Baku Japanese Language Speaking" competition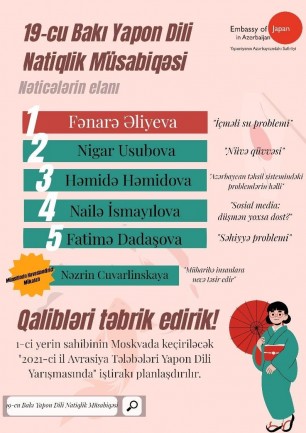 Students of the Faculty of Oriental Studies of Baku State University (BSU) have won the XIX "Baku Japanese Language Oratory" competition organized by the Embassy of Japan in Azerbaijan. The competition, which is traditionally held annually with the support of the Japanese Embassy and Japanese companies operating in Azerbaijan, was organized online this year.
Students from various universities in the country demonstrated their Japanese language skills. Aliyeva Fenara, a fourth-year student majoring in Regional Studies (Japan) at the Faculty of Oriental Studies, was awarded first place, Fatima Dadashova, a third-year student, was awarded fifth place, and Nazrin Cuvarlinskaya was awarded an incentive prize by the jury.
The contestants wrote essays on certain international issues, translated them fluently and spoke orally. The main purpose of the Japanese speaking competition is to create conditions for students to demonstrate their knowledge and skills in Japanese, to increase their interest in this language.
According to the terms of the competition, the winner of the first place will represent our country in the international competition "2021 Eurasian students Japanese language" in Moscow.