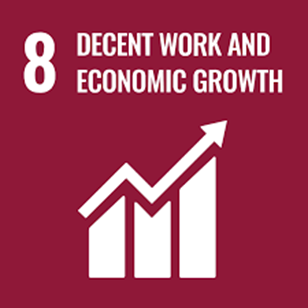 Decent Work and Economic Growth
In accordance with its Strategic Development Plan 2021-2030 (SDP), (which is publicly available), BSU upholds strong ethical principles (such as diversity, integrity, respect, and equity), transparency, sustainability, and a dedication to the greater public good. This comprehensive commitment to social responsibility, community engagement, and sustainability permeates our policies and practices, demonstrating our deep respect for society and the environment. We actively engage our students, staff, alumni, partners, suppliers, professionals, businesses, and the broader community to collaboratively develop and implement the actions and strategies necessary to integrate these principles into our daily operations.
BSU conducts its activities in strict compliance with the legislation of the Republic of Azerbaijan, its own Charter, and SDP, which guarantees equal rights to all employees. University personnel are hired under both long-term and short-term contracts. The requirements for candidates applying for vacant positions are standardized, irrespective of gender, religion, or sexual orientation. Job descriptions and contractual responsibilities vary depending on the specific job vacancy. An essential indicator of our commitment to non-discrimination is the equal representation of women and men among our total workforces. Additionally, the university boasts gender diversity in leadership positions, with 2 women serving as deans of the faculty, 2 women as advisors to the Rector, and 28 women leading various departments. Overall, 7 out of 17 senior leadership positions at the university are held by women. Furthermore, key aspects of our anti-discrimination policy and ethical organisational cultural policy are enshrined in the Baku State University and The Committee of Trade Unions collective agreement for the years 2021-2023.
BSU has established the Disciplinary Committee for ethical compliance to oversee ethical matters within the institution which addresses the violation of accepted internal respective codes provision and investigates and makes decision and take preventive actions for misbehaviours. BSU operates in full compliance with Azerbaijani legislation, thereby ensuring there is no involvement in forced labor, modern slavery, human trafficking, or child labor. Furthermore, The BSU Employees' Trade Union Committee, in its capacity as an authority that protects the rights of employees, also plays a pivotal role in advancing ethical compliance within the university.This trade union, with approximately 3,000 members, is one of the most influential in the country. Its primary focus is safeguarding the interests of employees, encompassing their social, legal, and moral well-being. The Committee of Trade Unions also plays a vital role in organizing significant university events, including anniversary celebrations, knowledge days, graduation ceremonies, competitions, and sports events. BSU's trade union is an active member of the Azerbaijan Trade Unions Confederation, and every year, a collective agreement is signed between Baku State University and The Committee of Trade Unions, outlining the fundamental rights and responsibilities of both parties.
The Trade Union Organization of Students of Baku State University, as an organization that protects the rights of students, plays a crucial role, standing as one of the university's robust organizations. The importance of deputy deans for social issues in this process cannot be overstated.
To maintain transparency and address any grievances or concerns, BSU has established an internal reporting system to protect the confidentiality of whistleblowers and a grievance procedure for staff related to employment matters, all overseen by the Vice-Rector for Social Affairs, Student Affairs, and Public Relations. Furthermore,Disciplinary Committee reports also to the Rector and the Scientific Council on the implementation of the Holistic Ethical Organizational Culture Policy on a yearly basis.
Conversely, to ensure transparency and address students' complaints and concerns effectively, BSU has also established a dedicated portal (http://contact.bsu.edu.az/) and an exclusive appeals system, enabling direct communication with the rector of Baku State University.
It is essential to emphasize that BSU plays a pivotal role in educating a significant portion of Azerbaijan's lawyers and social workers, who serve as vital advocates in preventing forced labor, modern slavery, human trafficking, and child labor within the country. Moreover, the university incorporates the study of the Azerbaijani Republic's Constitution and the Foundations of Law into its curriculum, reinforcing the principles of equality and freedom for all citizens. Additionally, at BSU established the "UNESCO Chair on Human Rights and Information Law", the "Labor and environmental law" chair, along with a "Law Clinic" at the Faculty of Law, further advancing the study and application of human rights and legal principles.
In 2021, the minimum living wage in Azerbaijan stood at 196 AZN, a figure established by the "On living wage in the Republic of Azerbaijan for 2021" law. This amount was categorized as follows: 207 AZN for the able-bodied population, 162 AZN for pensioners, and 175 AZN for children.
(Source - https://en.azvision.az/news/137225/amount-of-living-wage-per-capita-in-2021-azerbaijan-revealed.html)
It's noteworthy that the average wage for employees at Baku State University (BSU) exceeded 850 AZN, while scientific-pedagogical workers at BSU earned an average of over 950 AZN.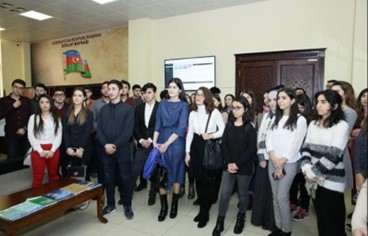 Student Trade Union Committee