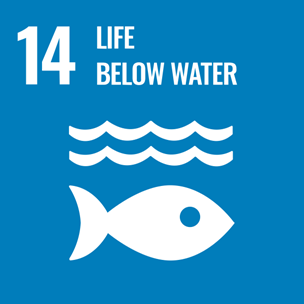 Life Below Water
The Earth's seas, their temperatures, substances, currents and biodiversity propel the worldwide mechanisms that render the planet livable. This objective aims to responsibly oversee and safeguard marine and coastal ecosystems from contamination, tackle the consequences of ocean acidification, and enhance the safeguarding and sustainable exploitation of marine resources through global legislation.
According to the National Department of Hydrometeorology of the Ministry of Ecology and Natural Resources, currently, water richness holds 40-100% of decade norm in Quba-Khachmaz region rivers of Major Caucasus, 30-80% in Minor Caucasus rivers, 65-95% in Lankaran-Astara region rivers. All this about students get lessons and have experience to carry out on discussion on seminars, conferences which last years occur in BSU regularly.
http://bsu.edu.az/en/news/role_of_youth_in_water_management
http://geography.bsu.edu.az/en/content/hydrometeorology_331
The organization of educational process on specializations prepared in accordance with state educational standards for higher education and carried out on the basis of the curriculum approved by the rector. We offer education in 3 languages- Azerbaijani, English and Russian.
http://static.bsu.az/w12/ders_cedveli/su_bio_ishchi_plani/study_plan_wat er_biores_aquacult.pdf
The International Day of Action against Dams and for Rivers, Water, and Life was inspired and mandated by the participants of the 1997 First International Meeting of People Affected by Dams in Curitiba, Brazil. Every year on March 14, people around the world celebrate victories such as dam removal and river restoration, teach others about issues threatening rivers and communities, and demand improvements in policies and practices of decision-makers.
https://www.researchgate.net/publication/343501041_Ecological_problem s_of_water_resources_in_Azerbaijan_and_their_impact_on_human_health
Hydroponics and Aquaponics systems
Dylan Mehri, founder of Danbury Hydroponics, USA (USA), Joshua Dushchi, CEO of Aquaponics Associate, Eric Weaver, CEO of Transparent Path, Nick Nikolaev, CEO of Rooted Leaf Agritech, GlobalGAP international standards specialist Fuad Agayev is holding a series of online trainings on hydroponics and aquaponics systems for teachers and students of the Faculty of Biology of Baku State University (BSU), as well as employees of the Research, Development and Innovation Center of Excellence.
The training covers the topics "Hydroponics and aquaponics", "Food production", "Productivity and food safety". International experts provide extensive information about the structure and working mechanisms of aquaponics and hydroponics systems.